GRIDDED NATURE
2021
CARL GRAUER PORTRAIT & FINE ART
Autumn of 2020 to Now

During the past year there was a need to be in nature, to search for a small touch of a real experience. I found solace in stepping into nature, taking walks, breathing the air and observing with a slowness and mindfulness that comes during times of meditation. And from those moments, I dove into my intrigue with the daily change of a season, the minutia of leaves, moving clouds and the time of day giving up its fight for the night. Using an organized grid as a structure, I paint a perspective that tracks change, point of view and these fourth-dimensional observations on a two-dimensional surface with oils. Here are some works that explore my response to this time and being in the natural world.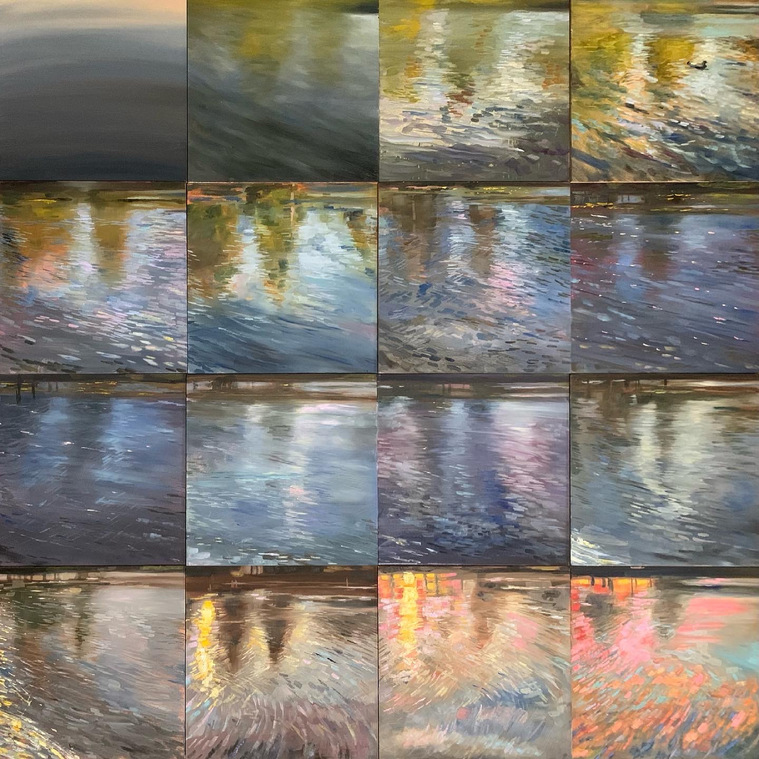 "A Summer's Day on Cranberry Lake"
oil on sixteen 12"x12"wood panels,
full dimension measures 48"x48"
2021
As we were approaching the Summer Solstice, I challenged myself to be present in and to paint the day as it passed. Each panel is painted on the hour from a foggy sunrise to a fiery sunset. Each painting focused in on the same reflection on Cranberry Lake. It was like watching a birth, life and death all in one day. Though it was a challenge in observation and mark-making it remained a day of joy, reflection (literally and figuratively) and gratitude through creative meditation.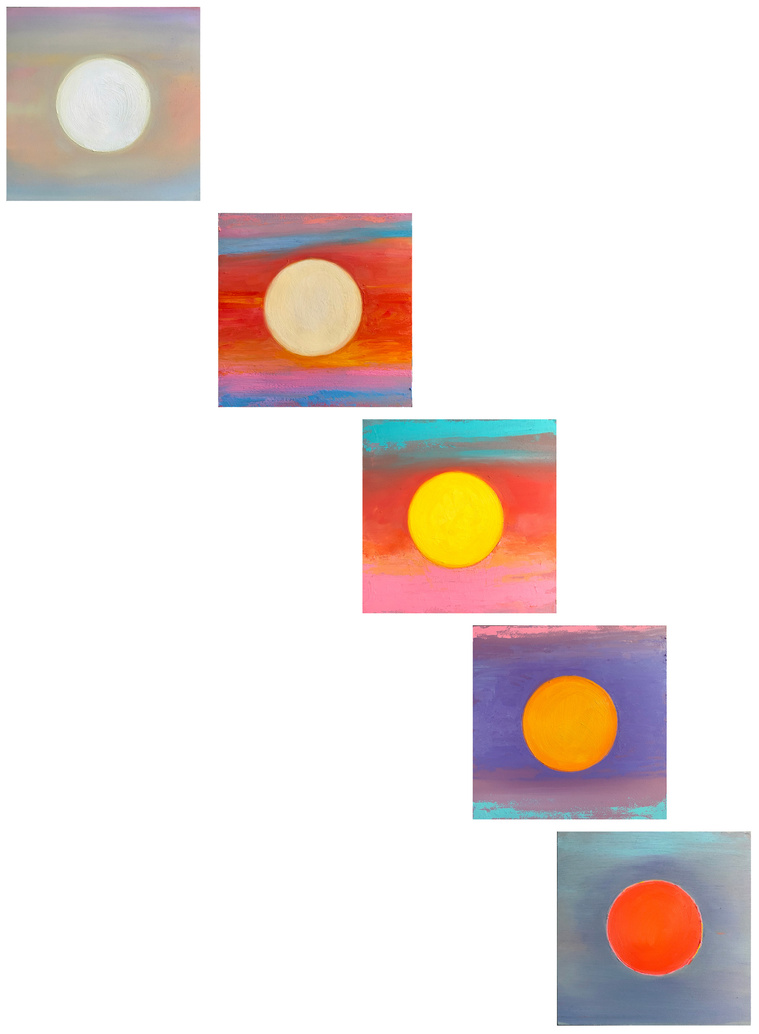 A SUMMER SUNSET, 2021
oil on board
62" x 42"
This work references the color change of the sun. Each panel documents the gradual change of the color from bright, almost white, to a deep orange-red hue.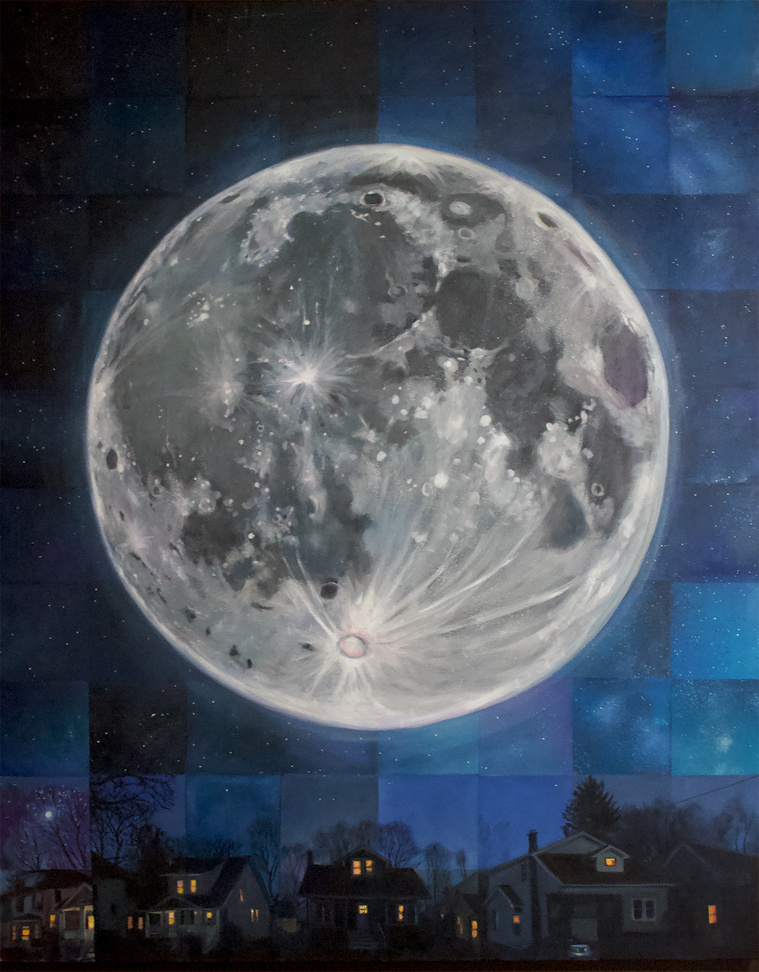 "Full Moon Over Our Home"
oil on canvas
60" x 48"
2021
I have been very conscious of the moon, regularly awaking from restless sleep, searching for its presence each night. How this satellite orb affects life and movement on this planet is mind blowing. Like a great stage player always facing front, never to turn their back, giving us high and low tides of a great story never giving a flat performance and always leaving us howling for more.
"Forsythia Blooming"
oil on canvas
60"x48"
2021
This painting of a forsythia bush was painted from March to July as I watched the flowers bloomed to yellow and then leaves changed to green as seasons passed from Winter, Spring and into Summer.
"Coniferous Sky"
oil on canvas
60" x 48"
2021
This very tall pine tree across the street stands directly in front of our home. It dominates the sky, and the street. It stands sturdy strong and seemingly unchanging, unlike its environment. The sky changes. The seasons change. This tree and it's environment is documented in time over 35 segments/days from November 2020 to March 2021.
"Hearth"
oil on board
30" x 30"
Fire. An eternal symbol of destruction but also renewal and purification. The pluralistic symbolism may be too on the nose in this current age.
"Burning Bush"
oil on board, 72"x72"
2021
This painting of a burning bush was painted from September to November as I watched the leaves change in color as Winter approached. Each 12"x12" panel is painted with oil from a different time and day. The final piece measures 6' x 6'.
CARL GRAUER PORTRAIT & FINE ART