The Lavender Temple
of Their Most Fabulous
MARSHA P. JOHNSON & SYLVIA RIVERA
Stonewall Warriors Diptych
oil and gold leaf on canvas
48 x 24 inches (51.5 x 27.5 inches framed) each
Marsha P. Johnson was a gay liberation and AIDS activist, and Sylvia Rivera was a transgender rights activist. Both were involved in the initial resistance that began the Stonewall Rebellion on June 28, 1969. Johnson was born in Elizabeth, New Jersey in 1945 and moved to New York after high school, changing her name to Marsha P. Johnson, with the 'P' standing for 'pay it no mind.' Rivera was born in New York City in 1951 and was taken in and given the name Sylvia by the local community of drag queens after she was homeless and worked as a sex worker at age eleven. Following Stonewall, Johnson and Rivera were involved in the Gay Liberation Front and from there, co-founded S.T.A.R. (Street Transvestite Action Revolutionaries), as well as STAR House, a shelter for gay and trans street youth, with the rent being paid for with money that Johnson and Rivera made themselves as sex workers. Johnson became a respected organizer and marshal with ACT UP before passing away under mysterious circumstances in 1992 in New York City. Her death was initially ruled a suicide by the authorities, but the case was reopened by the NYPD in 2012 and remains unsolved. Rivera continued to advocate for trans rights for the rest of her life, before passing away in New York City in 2002.
"How many years has it taken people to realize that we are all brothers and sisters and human beings in the human race? I mean how many years does it take people to see that? We're all in this rat race together!"
– Marsha P. Johnson
GILBERT BAKER
Rainbow Maker
oil on board
27.5 x 27.5 inches (37.5 x 37.5 inches framed) 🔴
Gilbert Baker was an artist and activist who created the rainbow flag in 1978. Born in Chanute, Kansas in 1951, he first came to San Francisco as an Army medic in the early 1970s. After being honorably discharged from the military, he learned how to sew and began making banners for gay rights and anti-war marches. Baker was challenged by Harvey Milk to create a symbol of pride for the gay community, leading him to create the rainbow flag, which flew for the first time at the San Francisco Gay Freedom Day Parade on June 25, 1978. The original flag had eight stripes: hot pink to represent sex, red to represent life, orange to represent healing, yellow to represent sunlight, green to represent nature, turquoise to represent magic and art, indigo to represent serenity, and violet to represent spirit. Baker refused to trademark the design, believing that the symbol belonged to the LGBTQ+ community. The design has become one of the most recognizable symbols in the world and is synonymous with LGBTQ+ rights causes. Baker passed away in New York City in 2017.
"Flags are about proclaiming power ... that visibility is key to our success and to our justice."
– Gilbert Baker
KARL HEINRICH ULRICHS
Urning
oil and gold leaf on board
5.25 x 4 inches (13.75 x 12.75 inches framed) 🔴
Karl Heinrich Ulrichs was a German lawyer, journalist and author who is seen today as the pioneer of the modern gay rights movement. He is often cited as the first person to publicly "come out" as gay, although the term he used to describe himself was as an "Urning". Born in Aurich, Germany in 1825, Ulrichs worked as a lawyer until he was dismissed due to his sexuality. He began publishing essays about sexual orientation under a pseudonym, before beginning to publish under his own name. He was the first LGBTQ+ person to speak publicly in defense of homosexuality when he spoke before the Congress of German Jurists in Munich in support of repealing anti-homosexual laws. He eventually moved to L'Aquila, Italy, where he continued to write prolifically until his death in 1895.
"Until my dying day I will look back with pride that I found the courage to come face to face in battle against the spectre which for time immemorial has been injecting poison into me and into men of my nature."
– Karl Heinrich Ulrichs
BARBARA GITTINGS
Mother
oil and gold leaf on board
20 x 32 inches open (20 x 16 inches closed)
Barbara Gittings was a LGBTQ+ activist whose contributions had a significant impact on LGBTQ+ acceptance and rights in the United States. Born in Vienna, Austria in 1932 while her father served as a U.S. diplomat, she was the organizer of the New York chapter of the Daughter of Bilitis (DOB), the first US national lesbian organization and served as editor of the DOB magazine, The Ladder, from 1963-1966. In the 1960s, Gittings co-organized picket lines to raise awareness about the ban on employment of gay people by the U.S. government, the country's largest employer at the time. She also was part of the movement to persuade the American Psychiatric Association to remove homosexuality from the Diagnostic and Statistical Manual of Mental Disorders, which they stopped listing as a mental disorder in 1973. Her childhood experiences of finding very little literature or information about being gay inspired her to have a lifelong involvement with libraries, especially the American Library Association (ALA), to promote positive LGBTQ+ literature in libraries. She passed away in Kennett Square, Pennsylvania in 2007 and has awards from the ALA and Gay & Lesbian Alliance Against Defamation (GLAAD) named after her.
"Equal treatment — no more, no less — is what we want! And compassion— which many homosexuals gladly swallow because they think it represents an improvement in attitudes toward them — is not equal treatment."
– Barbara Gittings
JAMES BALDWIN
Giovanni's Room
oil and gold leaf on canvas
20 x 10 inches (28.25 x 13.75 inches framed) 🔴
James Baldwin was a novelist, playwright, and activist whose work addressed inequality for African Americans, as well as gay and bisexual men. Born in Harlem in 1924, his first novel, Go Tell It On The Mountain, was published in 1953. Other notable works include his collection of essays, Notes of a Native Son, and his second novel, Giovanni's Room, which caused enormous controversy at the time of its publication due to its representations of homosexuality and bisexuality. Baldwin was active in social and political causes, lecturing and writing prolifically during the civil rights movement and beyond, although he rejected the label of a 'civil rights activist.' He passed away in Saint-Paul-de-Vence, France in 1987.
"It is certain, in any case, that ignorance, allied with power, is the most
ferocious enemy justice can have."
– James Baldwin
PHYLLIS LYON AND DEL MARTIN
The Daughters of Bilitis
oil and gold leaf on board
23 x 23 inches (29 x 29 inches framed)
Phyllis Lyon and Del Martin were the first same-sex couple to marry in San Francisco in 2004, were feminists, and LGBTQ+ activists. Del Martin was born in 1921 in San Francisco; Phyllis Lyon, in 1924 in Tulsa, Oklahoma. They met in Seattle in 1950 when they began working at the same magazine. They began dating in 1952 and were together for the rest of Martin's life, before she passed away in San Francisco in 2008. They co-founded the Daughters of Bilitis (DOB), the first national lesbian organization in the U.S., with Lyon serving as the first editor of The Ladder, the DOB magazine, and Martin succeeding her as the second editor of the publication. They were the first lesbian couple to join the National Organization for Women (NOW) and Martin also served as the first openly lesbian woman on the NOW board of directors. They also were active in local politics in San Francisco and were vocal advocates for senior citizens rights. They became the first same-sex couple to marry in San Francisco again in 2008 when same-sex marriage was legalized by the California Supreme Court (after having their 2004 wedding previously voided).
"Nothing was ever accomplished by hiding in a dark corner. Why not discard the hermitage for the heritage that awaits any red-blooded American woman who dares to claim it?"
– Del Martin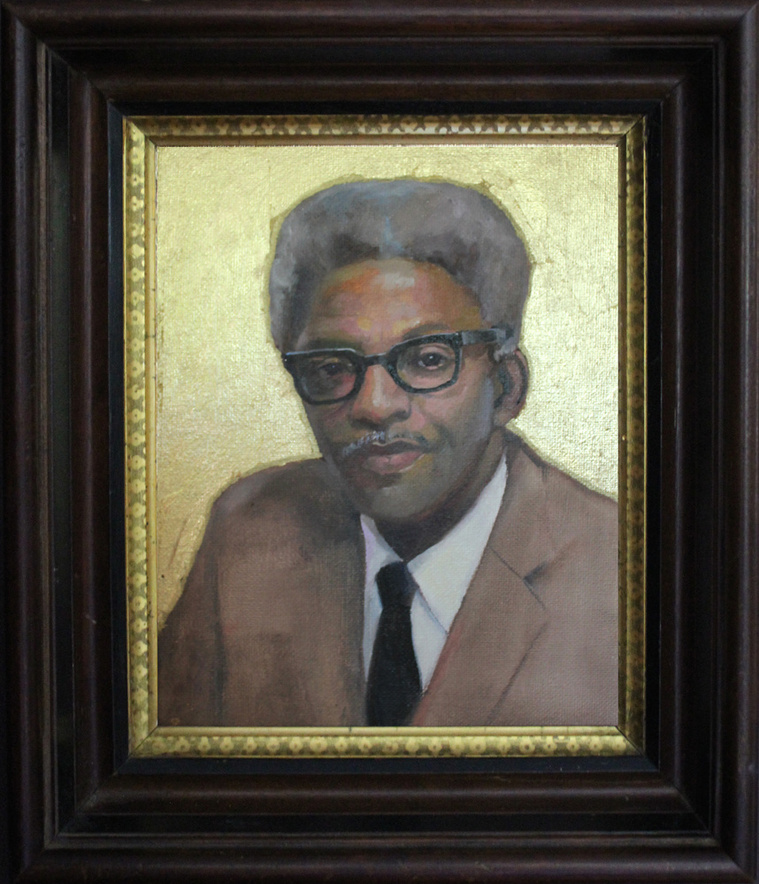 BAYARD RUSTIN
oil and gold leaf on canvas board
10 x 8 inches (13.75 x 11.75 inches framed) 🔴
Bayard Rustin was an activist who was an instrumental part of the civil rights movement, but played an often behind-the- scenes role due to being openly gay. Born in 1912 in West Chester Pennsylvania, he was raised by his grandparents, whose Quaker views and involvement in the National Association for the Advancement of Colored People (NAACP) were extremely influential for Rustin as he was growing up. Beginning in his youth with protests against Jim Crow laws, Rustin played a leading role in marches, protests and other instances of non-violent resistance that were used during the civil rights movement. He began advising Dr. Martin Luther King, Jr. in the late 1950s and organized the March on Washington for Jobs and Freedom in 1963, where Dr. King gave his seminal 'I Have a Dream' speech. He remained politically active throughout the next few decades before passing away in New York City in 1987.
"We need in every community a group of angelic troublemakers. The only weapon we have is our bodies, and we need to tuck them in places so wheels don't turn."
– Bayard Rustin
LARRY KRAMER
Plague!
oil on board
18 x 14 inches (38 x 18 inches) 🔴
Larry Kramer is a playwright, author and AIDS activist known for his unflinching perspective. He was born in Bridgeport, Connecticut in 1935 and began his career working as a screenwriter before publishing his first novel, Faggots, in 1978. After his friends began dying of a disease not yet known as AIDS, he co-founded the Gay Men's Health Crisis (GMHC), which has become the world's largest private organization assisting people living with AIDS. In 1985, he wrote the play The Normal Heart in response to the government's inaction and what he perceived as the gay community's apathy to the AIDS crisis. In 1987, he was instrumental in the founding of AIDS Coalition to Unleash Power (ACT UP), a direct action protest organization that has been widely credited with changing public health policy, the perception of people living with AIDS, and with raising awareness of HIV and AIDS-related diseases. Kramer has continued to write and
champion his causes over the last 30 years.
"AIDS is a plague - numerically, statistically and by any definition known to modern public health - though no one in authority has the guts to call it one."
– Larry Kramer
AUDRE LORDE
Black, Lesbian, Mother, Warrior, Poet 🔴
oil and gold leaf on canvas
40 x 30 inches (41.5 x 31.5 inches framed)
Audre Lorde was a feminist poet, writer and activist who addressed civil rights, feminism, lesbianism and the exploration of black female identity in her work. A self-described "black, lesbian, mother, warrior, poet," she was born in Harlem in 1934 and began writing as a teenager. Throughout her career, Lorde published nine volumes of poetry and five works of prose, and earned honorary doctorates from Hunter, Oberlin, and Haverford Colleges, and was named the New York State poet laureate. She was critical of the lack of inclusivity in the mainstream feminist movement of the 1960s and 1970s and sought to expand feminist discourse to take into account the totality of women's identities, including race, class, gender identity, and sexuality. Lorde also wrote extensively about her breast cancer diagnosis and treatment beginning in the early 1980s. She passed away in 1992 in Saint Croix.
"It is learning how to take our differences and make them strengths. For the master's tools will never dismantle the master's house. They may allow us temporarily to beat him at his own game, but they will never enable us to bring about genuine change."
– Audre Lorde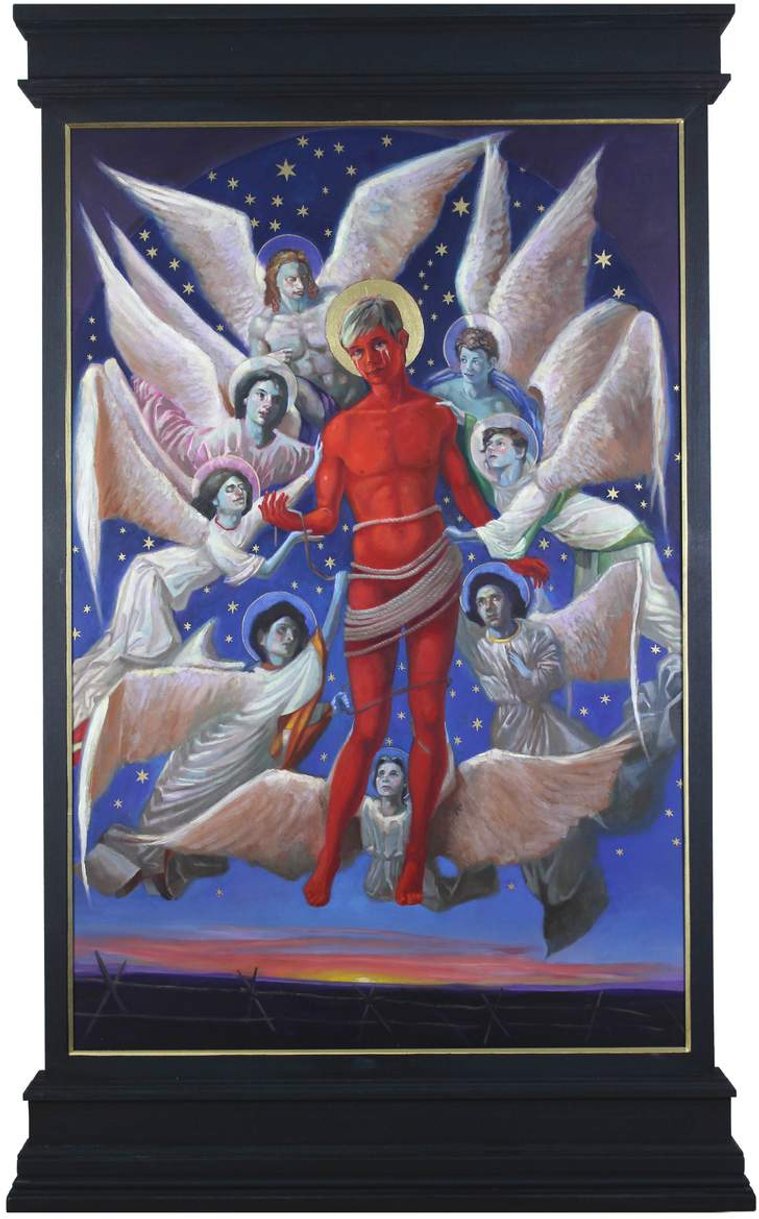 MATTHEW SHEPARD
The Ascension
oil and gold leaf on canvas
42 x 24 inches (51.5 x 27.5 inches framed) 🔴
Matthew Shepard was a college student whose murder in 1998 brought international attention to hate crime legislation at the state and federal levels. He was born in Casper, Wyoming in 1976 and was a student at the University of Wyoming when he was beaten, tortured and left to die by two men near Laramie, Wyoming. He died six days later in Fort Collins, Colorado from his injuries. His parents, Judy and Dennis Shepard, founded the Matthew Shepard Foundation and his mother has become a prominent LGBTQ+ activist. The Matthew Shepard and James Byrd, Jr. Hate Crimes Prevention Act was signed into law by President Barack Obama in 2009, expanding the existing federal hate crime law to include crimes motivated by a victim's actual or perceived gender, sexual orientation, gender identity, or disability. In October 2018, Shepard's ashes were interred at the crypt of Washington National Cathedral, making him the first national figure to be interred at the cathedral since Helen Keller.
"We all have a role to play. We all have our story to tell. When we all finally stand up and demand equality, the scourge of hatred will wither and disappear."
– Judy Shepard, Matthew's mother
HARVEY MILK
You Have Got to Give Them Hope
oil and gold leaf on canvas
40 x 30 inches (41.5 x 31.5 inches framed) 🔴
Harvey Milk became the first openly gay politician in U.S. politics when he was elected to the San Francisco Board of Supervisors in 1977. He was born in Woodmere, New York in 1930 and moved to San Francisco in the early 1970s. He opened a shop called Castro Camera on Castro Street in 1973 and soon became so involved in the neighborhood that he started being called the Mayor of Castro Street. His community involvement progressed into political involvement, campaigning for George Moscone, who was elected San Francisco mayor in 1976 and running for local and state office before being elected as a supervisor. His swearing-in ceremony as supervisor in 1978 made national news. He served less than a year in office before he and Mayor George Moscone were assassinated in November 1978.
"Freedom is too enormous to be slipped under a closet door."
– Harvey Milk
STORMÉ DELARVERIE
The Jewel of Stonewall
oil and gold leaf on canvas
30 x 15 inches (37.25 x 22.25 inches framed) 🔴
Stormé DeLarverie was a gay rights icon and entertainer. Born in New Orleans in 1920, she toured the black theater circuit as the emcee (and only drag king) of the Jewel Box Revue, North America's first racially integrated drag revue. She was present at the Stonewall Inn on June 28, 1969 during the police raid and is often credited as being one of the patrons whose resistance to being arrested began the uprising. DeLarverie remained a LGBTQ+ activist in the decades following Stonewall and was a fixture of her community, working as a bouncer at several lesbian bars, serving as part of the Stonewall Veterans' Association and was a regular participant of the gay pride parade. She also organized and performed at benefits for domestic violence survivors before passing away in New York City in 2014.
"It was a rebellion, it was an uprising, it was a civil rights disobedience – it
wasn't no damn riot."
– Stormé DeLarverie
The Deposition
oil on canvas
48 x 60 inches
This painting represents the responsibility we have to recognize the heroes that fought on the front lines, specifically black queer and trans people. This painting references the deposition of Christ often depicted throughout art history. Within the scene, the Christ figure is substituted with the Statue of Liberty representing the real threat of their loss limited by police, legislation and the current holder of the executive branch. The viewer is taken to a dystopian future or a past regression where Liberty is dead. To the right we have four leaders of The Stonewall Rebellion: Stormé DeLarverie, Sylvia Rivera, Miss Major, and Marsha P. Johnson. These four are removing Liberty from their crucifix as the impending storm approaches. The Wizard of Oz characters are present as symbols of the coincidental event of Judy Garland's funeral on the same day as the uprising as well as the often coded use of "friends of Dorothy" as a queer label. We see the scene set within the foreground of Washington, D.C. and the foreboding warning to surrender sent by the wicked president of the United States. The scene is set somewhere in between the deposition and the entombment before the resurrection. Justice will rise again.

The Lavender Temple of Their Most Fabulous
An Artistic Response to the 50th Anniversary of Stonewall
It's not too late to order your very own catalog from this exhibit.